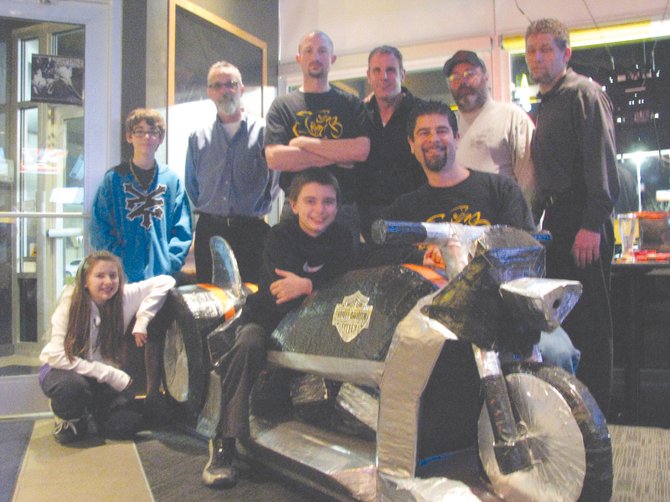 Last year's winning sled at Sled for Red was modeled after a Harley Davidson motorcycle. It came down the hill at a time of 22.1 seconds. Members of the winning team, sponsored by The Rabin Law Firm, are, from left behind the sled, Francesa Hodges, Joe Deckman, John Hodges, Joe Cannon, Billy Long and Bobby Danquer. On the sled is Austin Hodges, and crouching behind the sled is Ben Rabin.

Stories this photo appears in:

Last winter, Ben Rabin shot down the hill at Four Seasons Golf and Ski Center in Fayetteville in a Harley Davidson motorcycle made of cardboard and duct tape in just 22.1 seconds. Did he lose a dare, or is he just crazy? Neither. The Syracuse attorney was part of a team competing in Sled for RED, an event that raises both funds and awareness for AIDS Community Resources. The Syracuse-based organization started the cardboard sled derby last year as an interesting and different way to draw attention to its mission to eradicate HIV/AIDS in Central New York. This year's event will take place from 5 to 9 p.m. Saturday, Jan. 21 at Four Seasons Golf and Ski Center in Fayetteville.