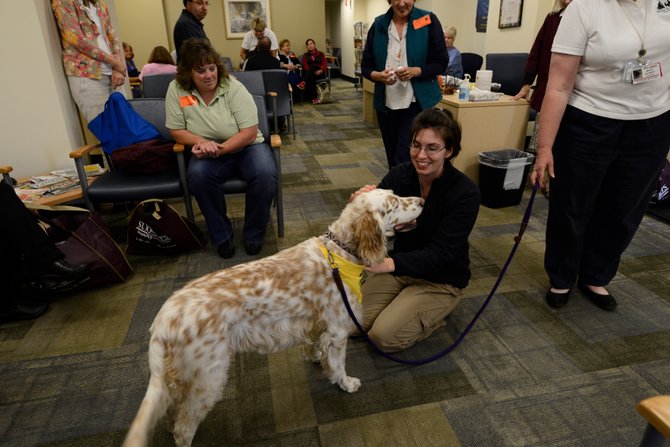 SYRACUSE — Research has proven that companion animals can relieve stress, anxiety and loneliness, particularly among people in need of additional emotional support, like those in a hospital setting.
That's why St. Joseph's Hospital Health Center has introduced a pet therapy program, bringing in Pet Partners of Syracuse to visit patients, family members and staff to help alleviate some of the stresses of hospital life.
"Basically, we're following relationship-based care that we promote," said Rachelle Lando, coordinator of St. Joe's Office of Patient Experience, which was created last May to integrate holistic and complementary models of care into patient treatment at the hospital. "It's really ingrained at St. Joe's — care of self, care of colleagues and care of patients and families. What we're finding with the pet therapy and what we've found through all of these studies that have been done is that they're thinking about their illness less. Their pain perception is less. It helps with anxiety. Their blood pressure goes down. There are many different facets. Even with the staff, the therapy pet groups are like rock stars. Everyone is so excited to see them. People just light up."
According to the Mayo Clinic in Rochester, Minn., one of the most renowned medical facilities in the country, pet therapy is a broad term that includes animal-assisted therapy and other animal-assisted activities. Animal-assisted therapy is a growing field that uses dogs or other animals to help people recover from or better cope with health problems, such as heart disease, cancer and mental health disorders. Animal-assisted therapy has been shown to benefit not only patients, but their families, as well; it's also been used in non-medical settings, such as universities and community programs, to help relieve stress and anxiety.
There are some risks associated with pet therapy, particularly in medical settings, in terms of safety and sanitation. There are strict protocols hospitals must follow to ensure that the animals are clean, vaccinated, well-trained and screened for appropriate behavior. However, it's important to note the Centers for Disease Control and Prevention has never received a report of infection from animal-assisted therapy.
(Continued on Next Page)
Prev Next
Vote on this Story by clicking on the Icon