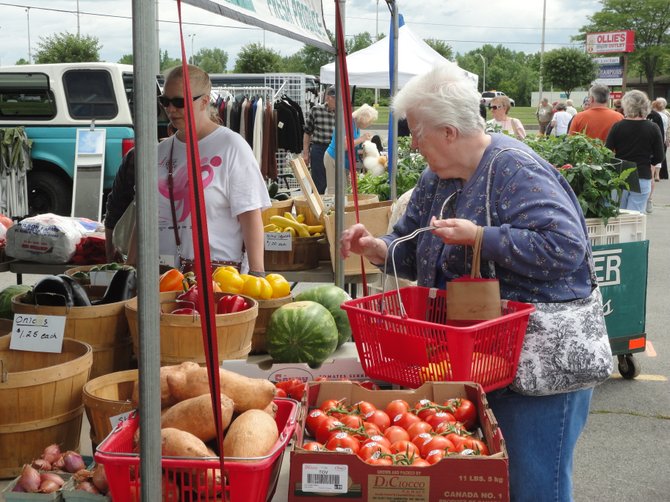 Cicero — The town of Cicero won't be holding a farmers market at Drivers Village — or anywhere else — this summer.
According to organizer Julie Raddell, not enough vendors registered to sell at this year's market, forcing its cancellation.
"Unfortunately, too few vendors registered in advance for stall spaces at the market," Raddell said. "We received plenty of calls from interested vendors, but without their actual reservation, I couldn't take the risk that they would consistently show up and pay for a space."
Raddell said she couldn't afford to devote the resources to the weekly event if she wasn't sure enough vendors would attend.
"A lot of time and resources from the Youth Bureau, Parks and Recreation Department went into setting up for the market each week," she said. "I didn't feel it would have been responsible to use our resources for just a few confirmed vendors each week."
The market opened last year to positive reviews. An average of 10 vendors a week sold locally-grown fruits and veggies, homemade jams and jellies, handmade candles and other locally-sourced products. Raddell said she would have liked to see at least 12 for this year's market for it to go ahead.
"We, as a department, take pride in hosting programs, events and activities that are top-notch for all involved, in this case both the vendor and the customer," she said. "I wasn't comfortable with the idea of opening the market with just five or so vendors. That wouldn't have been the right move to make for vendors that rely on a decent-sized market for their profits. It also wouldn't have been fair to customers expecting a variety of products, with a one-stop shopping experience."
Many questioned the change in time from afternoons to mornings. Raddell said she didn't know if that was why fewer vendors were interested, but it was requested by the community.
(Continued on Next Page)
Prev Next
Vote on this Story by clicking on the Icon