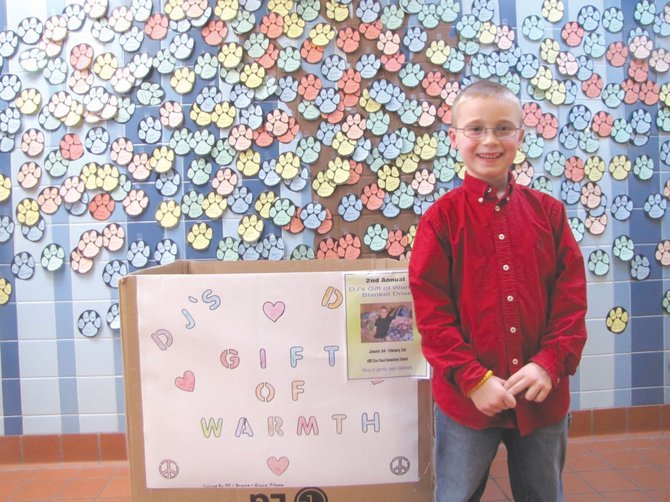 Clay — Two years ago, Damon "DJ" Villnave saw a news broadcast that would change his life.
"It was before the holidays [two years ago]. The Rescue Mission had a van going around and they were showing all the homeless people and people out on the streets having frostbite because last winter, unlike this year, it was so cold," said mom Sara Villnave. "So he was very serious, and he was very upset, and he said, 'They can't be cold. I don't want anyone to be cold.' Then he decided, 'Everybody needs a blanket,' because when he's cold, he gets a blanket."
So DJ, a fourth-grader at Karl W. Saile Bear Road Elementary in North Syracuse, decided to organize a blanket drive for the men at the Rescue Mission.
DJ, then 7, went first to his parents, then to his teacher, Jacki Donegan, and the principal at KWS Bear Road Elementary for permission to do the drive. He aimed to collect 40 blankets from the community to donate to the Rescue Mission's emergency shelter on Gifford Street.
Instead, he collected 281.
"It was cool," DJ said of the overwhelming response.
Once the blankets were collected, DJ and his family organized them into categories — quilts, fleeces, etc. — loaded them into the family's two vans and carted them off to the Rescue Mission.
"Once we got there, the people at the Rescue Mission were amazing and they actually were able to give us a tour of the facility, the shelter that the men stay in, the store that families get clothing from," Sara Villnave said. "DJ was pretty excited to be able to see all of those things, to see that not only were his blankets going to be going to the men in the shelter, but going to families."
DJ said he was glad to see the reactions of the people who would actually use the blankets he'd collected.
(Continued on Next Page)
Prev Next
Vote on this Story by clicking on the Icon