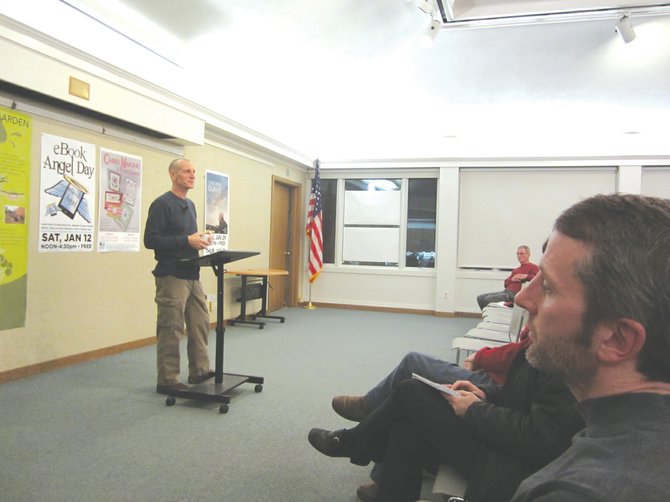 Liverpool — About 50 people came to the Liverpool Public Library looking for genuine happiness on Jan. 10 and they found it. It came in the form of a well-spoken spiritual teacher named John Bruna, who left his audience laughing when he wasn't encouraging them to reexamine their lives.
Bruna is a former Tibetan Buddhist monk who now is the program director for the Way of Compassion Foundation. His public talk at the library titled "Cultivating Genuine Happiness" included ideas from diverse thinkers, from Gandhi to Einstein.
The speaker's philosophy on true happiness was that it was something that comes from you, not from anyone or anything else.
"It's not, 'I'm going to be giggling all the time'... there is a state that is well-beingness," Bruna said. He said that state was spoken of by many thinkers from many schools of thought.
Bruna said Augustine called it a "truth-born joy" and Aristotle described the state as an "inner flourishing." Even your own grandmother may have perceived this concept.
"She was right," Bruna said. "Happiness is an inside job. What I'm sharing with you all comes from universal wisdom. This is not coming from a Buddhist camp or anything else."
There is another kind of happiness, Bruna admitted, hedonic pleasure or happiness from an outside source. This kind of happiness is fleeting. He advised it was not the way to genuine happiness.
He did admit though, that even he enjoyed the occasional simple pleasure from an outer source. As an example he light-heartedly called the cup of coffee he was carefully cradling in his hands a "precious radiant nectar."
Many problems today, he said, stem from people searching for their happiness by trying to attain something that was not from within themselves.
"About 68 percent of our thinking tends to go on what's wrong," he said.
(Continued on Next Page)
Prev Next
Vote on this Story by clicking on the Icon