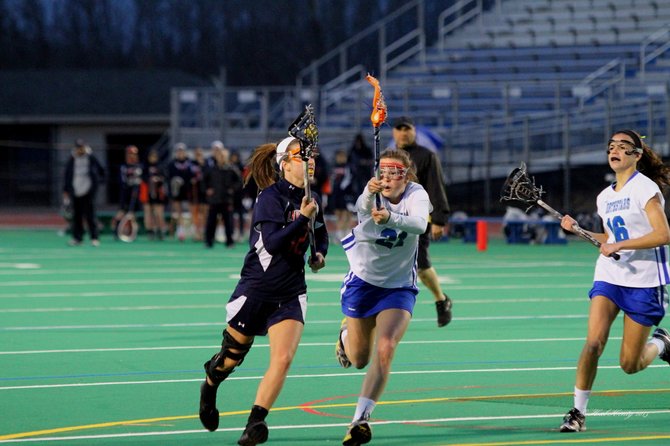 Cicero — In their latest chapter of a neighborhood rivalry, the Cicero-North Syracuse and Liverpool girls lacrosse teams battled it out on even terms for long periods of time, a charge from one side met a charge from the other side.
But that all took place after the outcome was settled.
With a brilliant first-half performance on both ends, the Northstars jumped all over the Warriors, and cruised from there to prevail by a 15-8 margin Tuesday night at Bragman Stadium.
What made it more stunning was the way the two sides entered play. C-NS was coming off a 14-13 defeat to a Class C opponent, Marcellus, on April 5, while Liverpool's lone blemish had come against West Genesee and it had just ripped Oswego 16-3.
Younger and quicker to everything, C-NS took charge in the opening minutes and did not let go. The Northstars constantly attacked against Liverpool's back line, found seams and passed it well to set up scoring opportunities that it would cash in.
By the time the stunned Warriors made it to halftime, it trailed, 9-2, and there was no chance at recovery, even though the second half was evenly played and active, Liverpool finally able to solve the C-NS defense, though it was too late.
Tiffany Ryan and Kristi Thompson led the Northstars along, Ryan getting three goals and two assists as Thompson contributed three goals and one assist.
Courtney Kenny helped out with two goals, with Marina Africa and Samantha Tortora each stepping in with one goal and one assist. Stephanie Liberati and Miriam Ghabarou had the other goals as Sarah Bowles and Hanna Haven picked up assists.
For the Warriors, Lauren Mancini led the way, scoring three times. Mallorie O'Brien and Kasi Cabrey each had two goals, with Jessica Attaway also finding the net. Alexis Kline had an assist. Combined, goalie Jenna Zajac and Megan Evangelista got 13 saves.
Vote on this Story by clicking on the Icon