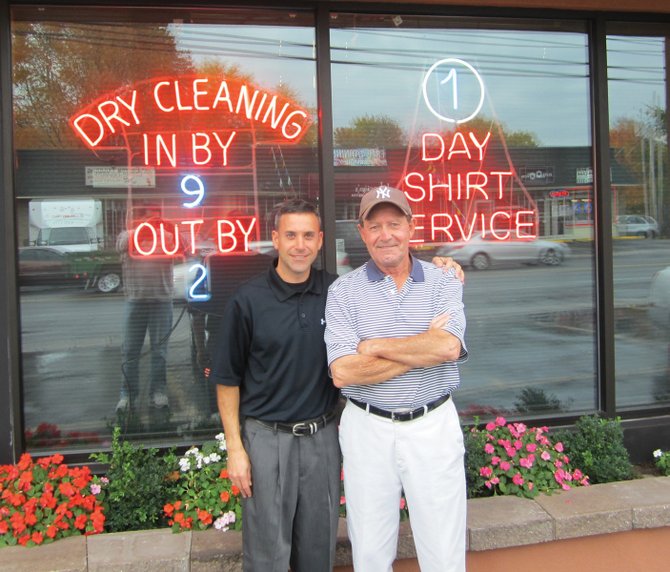 North Syracuse — What do Al Roker, Phil Donahue, Connie Francis and Frank Sinatra Jr. have in common?
At one time or another, they've all had their garments cleaned at Ritter's Cleaners at 403 South Main St. in North Syracuse, according to owner John Ritter Sr. Ritter prides himself on taking care of his customers, be they a local resident or a famous celebrity. He's done it for 40 years now.
"I like meeting the public, talking to people and the challenges every day," he said. "It's just an all-around good environment and I just enjoy the work. It's a friendly place. I know everyone by their names just about that comes in the door. If a new customer comes in I'll shake their hand and welcome them to the area."
Ritter's passed its 40-year mark just a few weeks ago. The cleaners opened on a Friday the 13th in October of 1972.
It was during a time of transition for John Ritter Sr. that he saw an opportunity that would eventually be his life's work. He had been laid off from his construction job and started helping out at a local cleaners where his girlfriend worked. The girl became his wife and the cleaning business became his trade.
The business he opened up has been good to him and his family.
"We put three kids through college — never going to be filthy rich, but we're doing okay," he said. "As long as I can play golf three or four days a week. We do our work in the morning and then I can play golf in the afternoon.
"My kids all went to C-NS and graduated. My son John is assistant varsity coach for C-NS soccer. My wife was a school teacher here for the North Syracuse district. She retired a few years ago."
(Continued on Next Page)
Prev Next
Vote on this Story by clicking on the Icon