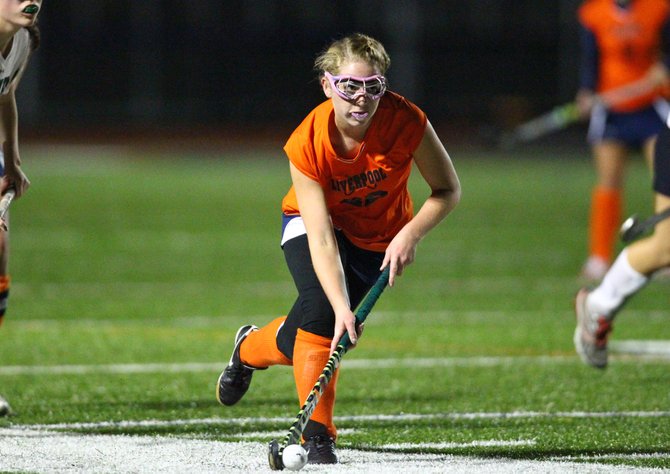 Liverpool — In their own manners, Cicero-North Syracuse's Marie Aloi and Liverpool's Shelby Peck delivered the biggest goals of their field hockey careers.
As a result, the Northstars and Warriors will play for the Section III Class A championship, this after a pair of riveting semifinal games played Sunday night at LHS Stadium.
First, it was Aloi scoring late in regulation to push top seed C-NS past Rome Free Academy 3-2. A couple of hours later, it was Peck's spectacular overtime goal that helped the no. 3 seed Warriors edge past no. 2 seed Fayetteville-Manlius in a 2-1 decision.
The irony about both of these contests was that, at least in the initial stages, there was little to indicate of the wild drama that would follow.
C-NS thought at first that it would run away from RFA. It took just 4:58 of game time for the Northstars to grab a 1-0 lead, as heavy pressure led to McKayla Roberts scoring off Megan Caveny's feed.
Roberts wasn't done, either, as at the 17:03 mark of the first half she rushed into the Black Knights' end and, taking a pass from Kristi Thompson, pushed in her second goal.
Now up 2-0, C-NS started to relax - a big mistake, as it turned out. RFA began to attack with regularity, and while it didn't produce anything for the rest of the first half, the pressure continued after the break, and Lindsey Nowicki converted 3:47 into the second half, putting the Black Knights on the board.
Fired up by that goal, RFA kept pushing, and minutes later, off a save made by C-NS goalie Hannah White, Janeene Yates fired the rebound into the box, and now it was tied, 2-2.
Only now did the Northstars settle down, on both ends. Though it took a while for the offense to revive its energy, the defense, anchored by Marina Pitonzo, Cassy Franklin and Emily Blidy, made sure RFA didn't move out in front.
(Continued on Next Page)
Prev Next
Vote on this Story by clicking on the Icon