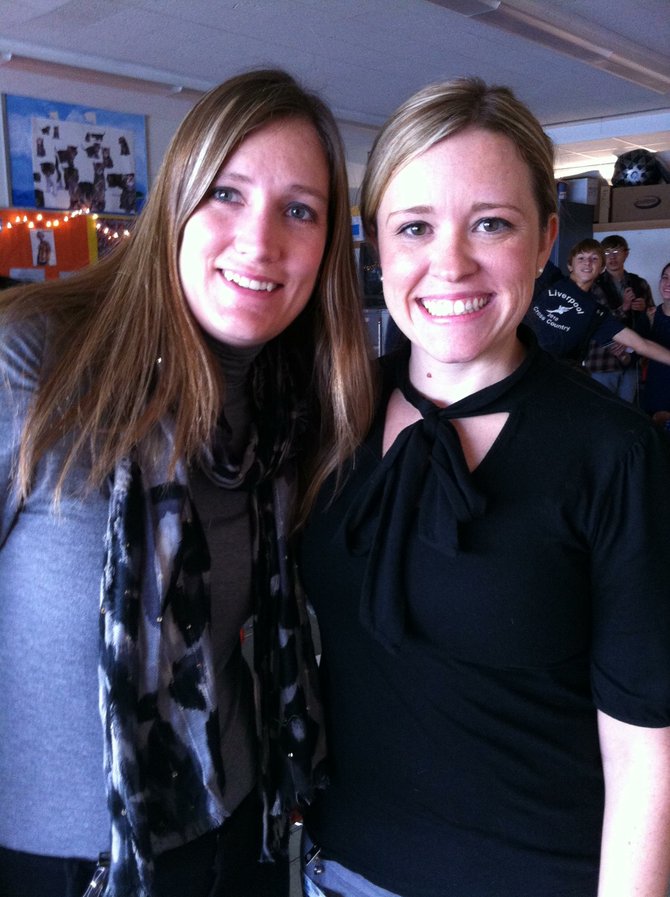 Liverpool — Among the holiday revelers and young families enjoying their first glimpse at Onondaga Lake's light display were about two dozen members of the staff from Liverpool High School raising money for a good cause.
The evening offered a chance for all current and former Liverpool High School staffers to walk through Lights on the Lake during the event's kickoff for pedestrians on Tuesday, Nov. 13. Participants were asked to make a donation in the amount of their choosing in support of the staff's Adopt-A-Family initiative, which assists students and families within the district.
Approximately 25 staff members walked, as did LHS's DECA Club, advised by business teacher Karen Pauly. The DECA Club also sold glostix during the event to raise money.
The walk was the brainchild of LHS Spanish teacher Amy Pento, who also serves as chairperson of the foreign language department at the high school.
"A colleague named Patrick Gilchriest mentioned how he heard the announcement about Lights on the Lake and how much he enjoys walking it. Many other people chimed in about how they too enjoy walking through it," Pento said. "I then said how much fun it would be if the staff went together and do something not related to acronyms like APPR, SLOs, DPAs, E2s, etc. Then I thought of our faculty charity called Adopt-a-Family. I half-jokingly said that we should use the group walk to raise money for the charity and the response from the rest of the people talking was immediately positive so I thought, what the heck, let's do this!"
Pento said LHS has had an Adopt-A-Family program for many years.
"I believe it was begun by Charlotte Muсуz and Pauline Williamson, who have both retired," Pento said. "Staff members who are aware of students in need quietly inform our two Adopt-a-Family coordinators, Jen Olden and Shannon Wright Lasher, of who they are and they keep a list. During the year, the staff donates money to this group. We pay $20 to be able to wear jeans on payday, other people just donate on their own and now this Lights on the Lake Walk."
(Continued on Next Page)
Prev Next
Vote on this Story by clicking on the Icon