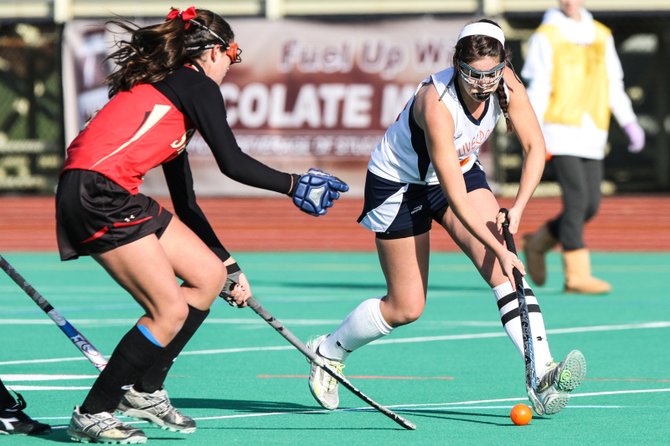 Cicero — Rising from the depths of an 0-2 start and uncertainty that lingered throughout the autumn, the Liverpool field hockey team reached the first state Class A championship game in the program's history.
However, the Warriors could not go all the way as undefeated, defending champion Sachem East prevailed 3-0 in Sunday afternoon's title game at Bragman Stadium.
It didn't help Liverpool that, the day before, it had to go through two overtimes and seven penalty strokes to survive its semifinal game against Niskayuna. By contrast, Sachem East had stomped past Williamsville North 6-0, a far less stressful contest.
More importantly, the Flaming Arrows had the experience of a state title earned in 2011 and the confidence of a perfect 22-0 mark. Both things would prove too much for the Warriors to overcome.
Through most of the first half Liverpool's defense, rarely able to clear the ball out, did manage to turn away all of Sachem East's attacks, including a handful of penalty corners.
"We wanted to hold them to 0-0 in the first half and figure out a game plan after that," said Liverpool head coach Kim Dominick.
Just one second before halftime, though, the Flaming Arrows lined up another penalty corner, and a series of passes set up Karyn Ryan, who took the last pass from Cara Trombetta and beat Megan Evangelista for the go-ahead goal.
Only on a rare occasion, before or after that goal, did the Warriors organize any sort of attack, as midfielders Emma Lamison and Emily Burns both tried to weave past Sachem East's tough back line. But it never got a penalty corner until the 13-minute mark of the second half, when Lamison's shot from the point got kicked away.
By that point, it was 2-0, the Flaming Arrows gaining a cushion when, 8:47 into the second half, Ryan connected again on a perfectly executed penalty corner off a pass from Katie Shanahan. Just to lock it up, Ryan assisted as Trombetta scored in the game's final minute.
Liverpool finished at 13-5-1, having endured not just the 0-2 start, but an 0-1-1 mark against Cicero-North Syracuse, which it avenged by beating the Northstars 1-0 in the Section III final two weeks before its epochal state semifinal win over Niskayuna.
"We never were 0-2 before," said Dominick. "To come back from that and pull off a sectional title is amazing. We pushed through and played hard all the way."
Vote on this Story by clicking on the Icon