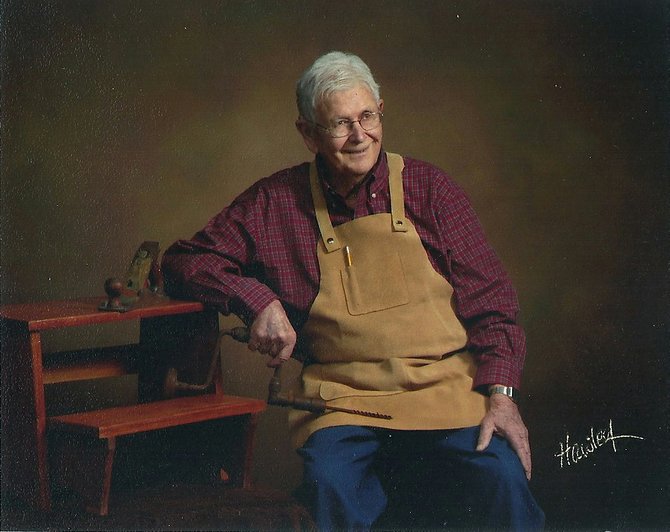 Clay — Earl Butterfield, our 49th supervisor, served in 1970 and 1971. I was fortunate to catch him in town to learn of his present life. At 97, he celebrated his birthday here and was headed to California for a reunion of the remaining members of the Jolly Rogers 90th Bomber group, which served in WWII, to celebrate his birthday again with them. Colonel Rogers was their commanding officer.
In addition serving as supervisor, Butterfield was a building contractor for many years. He has also always been active in the North Syracuse Baptist Church, giving them land on the Oneida River in the 1970s in memory of Howard Golden of the Jolly Rogers group, who was killed in action. His wonderful wife of 57 years, Maxine, passed away in 2004. In 2008, he met his present wife, BeeJay, in Cheyenne, Wyo., at a reunion, when the remains of her brother, also in the Jolly Rogers, were found after being lost in action in New Guinea for 64 years. After the trip to California, they will be heading for Orlando, Fla., for the winter, which he has been doing since 1980.
Since it has been 10 years since Clay celebrated its 175th anniversary, I would like to reprint Earl's article from the Star-News special edition:* "Memories of Clay in the 1920s and 1930s." Read on:
"In 1925, my family moved to Buckley Road when I was 9 years old. They bought a farm just north of present day Taft Road where Kristin Road and Butterfield Circle are now. Buckley Road and Taft Road (then called Fayetteville Road) were lined with working vegetable farms. We were in the Brown School District, Brown School being a two-room school where Buckley Road Baptist Church now stands. It had no plumbing or electricity. The annual school meeting was a sort of social affair and many people brought kerosene lanterns for light. One of the teachers, Miss Mastriano, roomed at our house and paid my mother $3.50 a week for room and board. Two of the neighboring families and us, comprising six kids, chose to pay tuition to go to the brand new North Syracuse School. In good weather we rode our bicycles to school and in bad weather our parents formed a car pool to take us. I started in fifth grade in the fall of 1925. Wilford Down was principal.
(Continued on Next Page)
Prev Next
Vote on this Story by clicking on the Icon