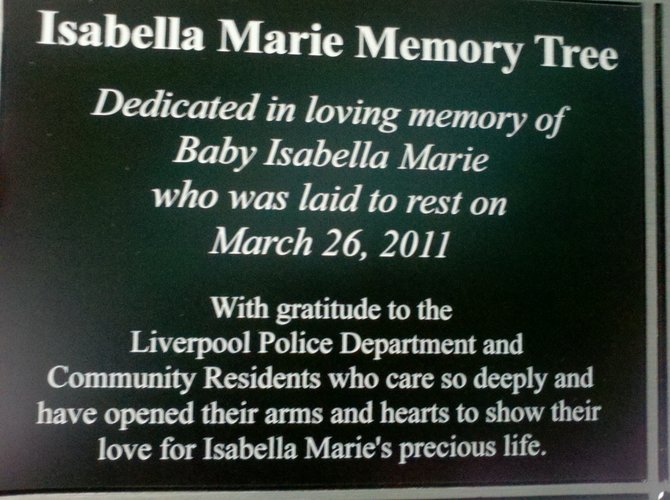 Liverpool — When residents visit the Village Hall at 310 Sycamore St., they'll see a distinctive miniature Asian elm tree planted there Oct. 26 as a memorial for baby Isabella Marie.
In July, the newborn baby's mother, 30-year-old Nicole DeJaynes of Clay, pleaded guilty in Onondaga County Court to first-degree manslaughter to avoid a trial for second-degree murder. On the night of Jan. 6, 2011, the infant's body was discovered in a dumpster near the Hiddenbrook Terrace Apartments where DeJaynes had been visiting friends.
On July 30 County Court Judge Anthony Aloi sent DeJaynes to prison for 13 years. DeJaynes is serving her sentence at Bedford Hills Correctional Facility in Westchester County.
The memorial tree, sculpted in the shape of a teardrop, was donated to the village by Laurie Venditti, a freelance information-technology consultant who worked on a records-management project for the county sheriff's office in 2011.
"I had the honor of working with law-enforcement agencies through 2011," Venditti said. "I learned about the unfortunate incident, and I was touched by the love and support shown by the Liverpool Police Department and other local law-enforcement agencies. I attended the funeral services organized by the LPD in March 2011, and something clicked inside me."
Prior to DeJaynes' arrest on Jan. 14, 2011, the LPD named the baby Isabella Marie. A memorial Mass for the infant was celebrated March 26, 2011, at St. Joseph the Worker Roman Catholic Church. Isabella Marie is buried in Liverpool Cemetery in a plot donated by the family of late Police Chief Floyd Harrison.
Meanwhile, Venditti – who, lives in Manlius – worked with Sennett wildlife biologist Mike Bean on that village's swan pond initiative after the birds' eggs had been vandalized. Their effort there resulted in the installation of security cameras and the establishment of a swan patrol.
(Continued on Next Page)
Prev Next
Vote on this Story by clicking on the Icon