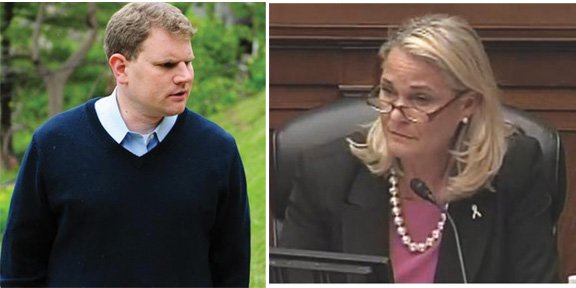 continued — The new 24th district
Obviously, the biggest change is that the 25th district will soon be the 24th district. Under new maps recommended and later approved by Judge Roanne Martin, the new district includes Onondaga, Cayuga and Wayne counties as well as half of Oswego County.
Originally, the district was to have included Onondaga, Cayuga, Madison and Tompkins counties. The New York State Legislative Task Force on Demographic Research and Reapportionment (LATFOR), the committee tasked with redistricting congressional lines, submitted the district map at the beginning of March. Had the map been approved, it would have added the highly Democratic Tompkins County to the district, which would have jeopardized Buerkle's campaign. The move prompted speculation that some were looking to sacrifice the conservative Buerkle.
"There was nothing political about it," said Scott Reif, press spokesman for the LATFOR committee. "We wanted to keep the counties whole, and this did so while maintaining the population numbers we were looking at."
As it stands, the new district is politically similar to the old one.
"I don't think much will change," Buerkle said. "Certainly the geography has changed, but the interests are similar. It could have been seismic if the other lines had been accepted. But the judge stepped in, and the district map she put in place is a lot more fair."
Maffei agreed.
"The district is actually one of the least changed in the state, and the areas we added make sense," he said.
Still, Reeher said, that could present a challenge for Buerkle.
"Even with the districts being redrawn, this is basically a moderate district," he said. "We're pretty middle-of-the-road here. Your typical Upstate Republican is kind of your last vestige of the moderate Republican. So she's in for a tough battle."
The campaigns
But Buerkle doesn't think her conservative stance on national issues will be a problem. She said she's remained true to what she campaigned on in 2010.
Vote on this Story by clicking on the Icon