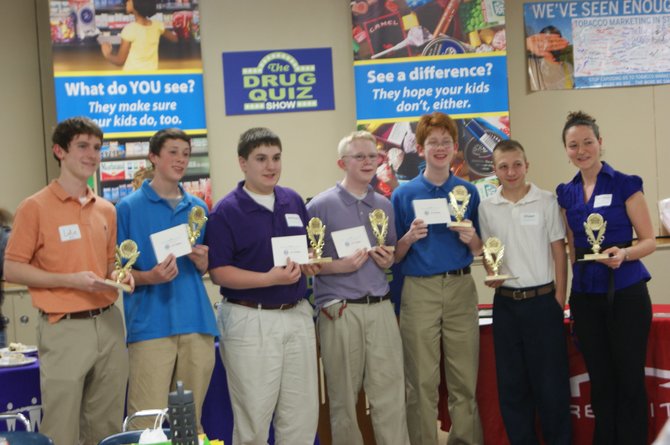 SYRACUSE — An annual tradition for the better part of three decades could be coming to an end if thousands of dollars aren't raised.
The Drug Quiz Show, a game-show style trivia contest for middle school students in numerous counties across New York State. Each year, teams of four to seven students study and learn about drugs, alcohol, peer pressure and healthy life choices. The teams then go head-to-head in regional and state tournaments.
But Tuesday's regional championship, consisting of five teams between Onondaga and Madison Counties, could be the end. There won't be a traditional state or final tournament due to lack of funding.
Christian Brothers Academy took first place. Tully finished second. Wellwood Elementary, Chittenango Middle and North Syracuse Junior High School also competed.
The Drug Quiz Show ran on donations and corporate sponsorship for the last 25 years. In 2010, Rite-Aid pulled corporate sponsorship from numerous community ventures, including the Drug Quiz Show.
"We have enough money to function until the middle of April," said director Susan Meidenbauer. "Then we will be closing our doors."
Meidenbauer has applied for numerous grants and is waiting to hear back from them. This year's regional competitions were run by the Show, and assisted by the Prevention Network and Reality Check.
She says the show's financial struggles didn't hinder most schools from competing. State-wide, the same amount of students played. Locally, three schools dropped out of the competition, but none of those were financially-related.
"The kids are still competing but right now, we're at a stand-still," Meidenbauer said. "We can't move it forward."
For one year of operation, the Drug Quiz Show needs about $100,000. To finish out this year's competition cycle, Meidenbauer said she would need about $30,000 to put on the state tournament.
"That's pennies per kid for a community-wide prevention program that continues to effect the student the rest of their lives," she said. "We have to come together to make this happen."
Anyone interested in more information about the program can contact Meidenbauer at Susan_DrugQuiz@hotmail.com or 471-3624.
Vote on this Story by clicking on the Icon