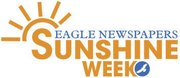 SYRACUSE — A provision in the state's open meetings law aims to help the public understand what's going on at board meetings.
The newest portion of the law requires boards to make available any document they may be discussing prior to meetings. The law also requires municipalities to post the documents, such as resolutions, site plan proposals and budgets, online, should they have a functioning website.
"This new provision will have an immense impact over time," said Bob Freeman, executive director of the state's Committee on Open Government. "This new amendment provides real transparency. No longer will people sit in the second row at a board meeting and wonder what the board is discussing when a reference is made to the third paragraph on page two. That document will be made available to the public prior to the meeting. This is the most significant change we've seen in three decades."
Local municipalities are still working to put the law into effect — documents are available, and plans are being made to post that information to the web. Syracuse was posting the documents associated with the common council well before the law was put into effect, said John Copanas, city clerk.
Enacting the law, though, could be troublesome for some municipalities that lack the proper technology, Freeman said.
"I think there is some fear associated," he said. "In my opinion, it is unwarranted because it is exceedingly flexible. The pace of change is so dramatic that what is difficult or even impossible today will become absolutely routine in a relatively short period of time."
Local municipal leaders are crying out over an additional unfunded mandate, though.
"It's onerous for small governments and it's onerous for a small staff," said Richard Donovan, mayor of Minoa and president of the Onondaga County Mayors Association. "I think it has gone too far."
(Continued on Next Page)
Prev Next
Vote on this Story by clicking on the Icon