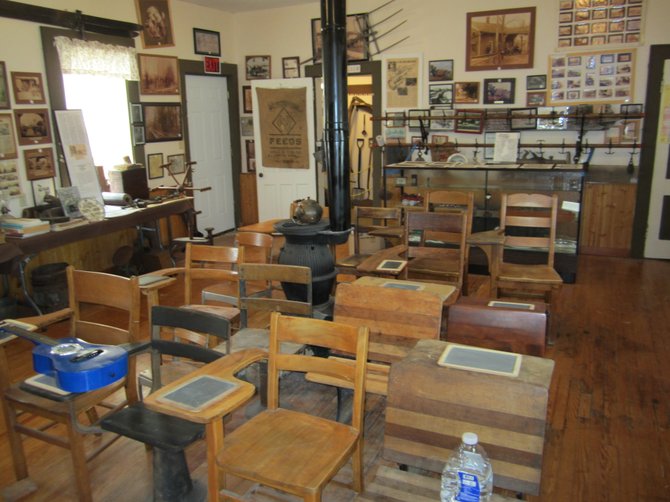 North Syracuse — The village of North Syracuse celebrated the reopening of the one room Conway Schoolhouse at 106 Singleton Ave. on Sunday, July 22. Several students who attended the school were at the celebration along with about 50 other people.
The school originally stood at the corner of Totman and Taft roads in North Syracuse and functioned as the district 13 school from the mid-1800s to the mid-1900s.
The project was a collaborative effort of many individuals including the school's new curators Eddie Fagan and Vera S. Desimone, Teresa Roth, the village's director of parks and recreation and Susan Kimmel, owner of Two Plus Four Construction Company. Two Plus Four worked on the adjacent Toll Road Apartments and offered their services to help in the school project.
"I am excited," Roth said. "It's been a long time coming. A lot of it came from Sue Kimmel through Two Plus Four and who she had doing the whole Toll Road Apartment complex. We've had a lot of help with who we're calling now our curators, Eddie Fagan and Vera Desimone. The two of them have put in countless volunteer hours in the past several months doing the interior and getting all this historical stuff displayed properly."
Work at the site included movement of the building to a new foundation, lattice around the bottom of the structure, painting, window improvement, a new flagpole and new trees and benches.
"Basically everything is new, except for the original structure itself of the school," Roth said.
Inside the school is a treasure trove of local artifacts, including 120 photos. Each item is documented on a program that guests receive when they enter.
"I think it's wonderful," Fagan said. "It's a building that's more than 110 years old and it's all been restored. Historically we've done all the pictures in it and it's almost self-explanatory when you go in it. I think that's the great thing. Everybody loves graphics today so the pictures in there ... have put a number on each picture and use a legend in the book of direction and you can read on your own, pick a picture and ask a question."
(Continued on Next Page)
Prev Next
Vote on this Story by clicking on the Icon