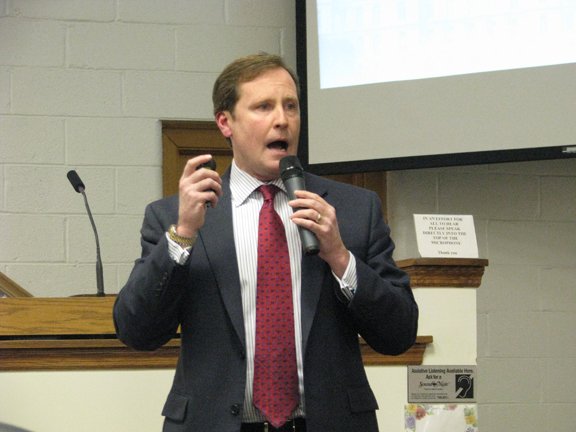 Cicero — Former Syracuse Mayor Matt Driscoll appeared at the Cicero Town Board meeting Wednesday, Jan. 25 to stump for Gov. Andrew Cuomo's budget proposal and to answer questions from the public about the plan, speaking for about an hour on the merits of the governor's budgetary message.
Driscoll, who is now president and CEO of the New York State Environmental Facilities Corp., was sent as a representative of the state to give a presentation that mirrored the one Cuomo gave in Albany on Jan. 17.
"It's really a new way to reinvent New York state government and really tackle some difficult issues," Driscoll said.
The budget proposal calls for both limiting spending and reforms. It asks government agencies to hold their spending flat to eliminate a $2 billion budget gap, creates a new economic development agency called New York Works to spur private investment to encourage growth, consolidates government offices, puts a cap on the counties' responsibility for Medicaid growth and creates a new Tier 6 in the state's pension system that seeks to address abuses in the pension system. In terms of education, the budget proposes an additional $250 million for competitive grants to school districts, a program the governor created last year, bringing the total to $800 million. The program targets low-wealth, high-needs districts. The budget also demands a standardized system for teacher assessment by mid-February from the State Department of Education; if that doesn't happen, the state legislature will create one. If districts agree to it by certain dates, they will be eligible for incentives.
Driscoll encouraged those in attendance at Cicero's meeting to contact the governor with their input on the budget proposal.
"The governor wants to have your voices involved," he said. "He's asking people to come and weigh in. Have your voices heard. I can tell you firsthand — he is a bottom-up governor. He really does listen. These initiatives are really borne from his experiences over the years."
(Continued on Next Page)
Prev Next
Vote on this Story by clicking on the Icon