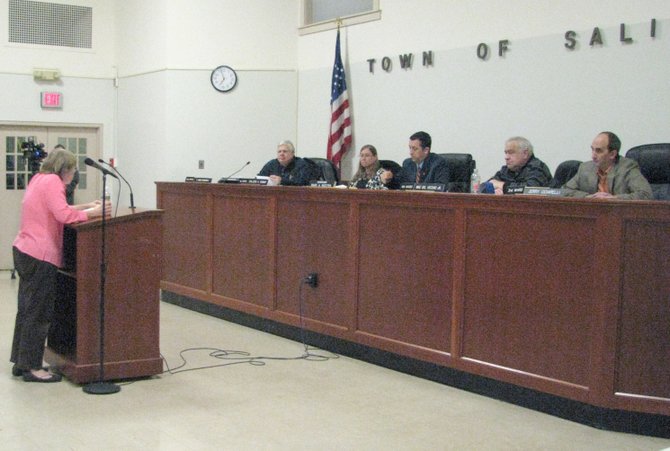 Salina — When Becky Zinsmeyer let her two cats out on the morning of December 13, 2011, she didn't think much of it when only one returned before she left for work.
When the other still hadn't come back by the time the third-grade teacher came home between 6 and 7 p.m. that evening, she began to worry.
Two days later, she let her other cat out to get some fresh air. When he didn't return by late that night, Zinsmeyer went out to call for both cats.
"I heard a faint cry, and I went next door, checked under some cars, couldn't figure out where the cat was," she said. "I went to the next house, and, to my dismay, they had a live trap set out front. On top of it was a piece of tinfoil with a jug of brown liquid. Me not knowing where this trap came from, I assumed they were poisoning my cat."
But that wasn't the case.
In fact, the unmarked trap had been set by the town of Salina's animal control officer because a cat in Zinsmeyer's neighborhood had been identified as a "nuisance." Zinsmeyer had never been notified, nor had her cats specifically been singled out as a problem.
Zinsmeyer was one of several residents who appeared before the board to address the town's controversial cat law, which is Chapter 70, sections 19 to 21 of the town code. Under the auspices of following said law, Salina's animal control officer has been setting traps throughout the town after receiving nuisance complaints. Those traps have captured cats – some of which are feral, or wild, cats, but some of them are family pets – which the ACO has then transported to the CNY SPCA. If the animals aren't claimed within five days, the animals can be put up for adoption or euthanized. According to the residents who spoke at Monday's meeting, neither the animal control officer, the neighbors who made the complaints nor the SPCA made any effort to locate the trapped cats' owners.
(Continued on Next Page)
Prev Next
Vote on this Story by clicking on the Icon