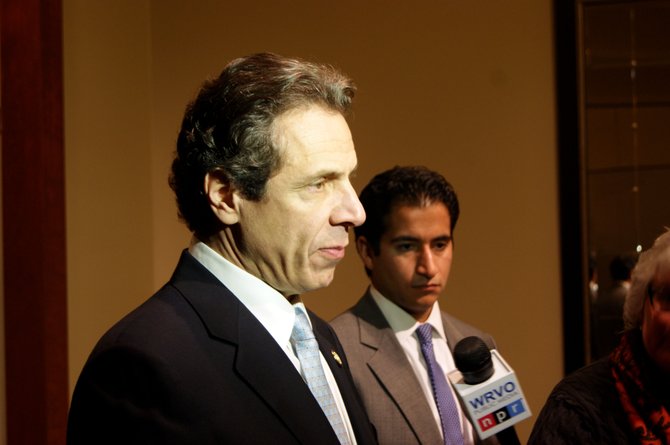 SYRACUSE — The state budget process has long been marred by an overwhelming amount of politicking and grandstanding. An on-time budget was rarely heard of until 2011, the first budget season of Gov. Andrew Cuomo's tenure at the helm of the state.
But this year is on track to be the second consecutive on-time spending plan, a feat only repeated in 2005 and 2006. For at least 20 years before that, the state's budget wasn't passed on time even once.
Cuomo brought his budget roadshow to Onondaga County last week, outlining the biggest aspects and showcasing the big-ticket items in the budget for the 2012-13 year.
"We consciously made a decision to leave the politics at the door," he said in his opening statements Wednesday. "We're New Yorkers first, let's act as New Yorkers and leave the partisanship aside."
We applaud Cuomo's budget proposal in a number of areas — SUNY reform, legalizing casinos and assistance to county, town and village governments.
SUNY reform
Cuomo vows to be a lobbyist for the SUNY students. The SUNY system was created to be a world-class education in a low-cost environment, but costs are escalating and higher education is in high demand. Students need a SUNY lobbyist, working to keep education affordable, available and most of all, worthwhile.
"How do you have opportunity?" Cuomo asked. "We have it through education. The SUNY system has fallen into a state of disrepair."
Cuomo hopes to invest an additional $113.2 million in additional spending for SUNY campuses, something we heavily endorse. Investing in our college students can help prevent brain drain. The more we invest in students, the more intelligence, education and knowledge we bring back to our streets. It's a win-win, and should be a top priority.
Figuring out a way to cut costs at SUNY, though, should be of top concern. Education costs are rising and the "affordable" aspect of the public education system seems to be slipping through the cracks.
(Continued on Next Page)
Prev Next
Vote on this Story by clicking on the Icon