continued — The idea of the mustache is used to draw attention to yourself, particularly as the mustache has faded from popularity.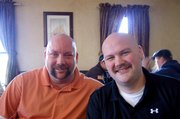 "It's not something that's popular anymore," said Shawn Hunter, with Rural/Metro. "It used to be more popular. Every man grew a mustache just to be a man."
And while some men had well-shaped and bushy mustaches, others struggled with the facial hair challenge.
"The beginning stages are pretty terrible," said Moyers Corners firefighter Chris Goonan. "It's a good conversation starter."
The contest, which ran through the month of April, was capped off by a reception at Nibsy's Pub on Tipperary Hill. Voting is open for the best mustaches on the Burn Foundation's web page. Men provide before and after photos of their mustaches.
Vote on this Story by clicking on the Icon