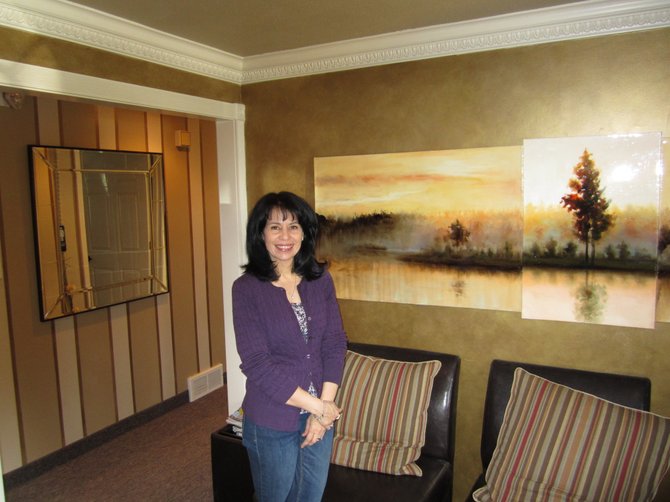 continued — Today Marini is a psychologist with the North Syracuse school district where, according to her, reading difficulty is the most prevalent disability.
A few years ago, in order to help with that very problem, Marini started the Reading and Tutoring Learning Center where the spa and salon is now. It was supposed to be a place where both children and adults could find help with their reading skills. Due to problems with local variances, though, the endeavor never got fully up and running, she said.
When that failed, Marini got the idea to go back into the beauty business. She was able to find local funding to put a new roof on the place and then she and her husband gutted the inside to turn it into a salon and spa.
"It's extremely hard," she said. "You have to have a healthy bank account. You have to expect that everything's going to run 10 to 20 percent over what you're quoted. You have to constantly go to the person you're working with. It can't be over the phone. It can't be through texting or you turn into a number. So you really have to get in your car and drive their and check up on things. You have to really stay on top of things. You have to be hands-on."
Now Marini's dreams, and those of the salon and spa workers, are off and running.
"It's been going better than we expected," she said. "I thought it would be a slow trickle, but it's been very nice. There's walk-ins every day, people we've never seen before."
She hopes all her clients, old or new, leave with a smile on their face.
"I love the business," Marini said. "I kind of wish I stayed in it full time. It's really nice to be involved with making people happy, to help them feel good about themselves. You may be doing your hair one way, or dressing one way or using products that don't help you so we get to say to people 'You should try this... you'd be accenting all of your good points, your attributes.' I really enjoy doing that and I think everybody there, that's what they're there for — to help people feel good about themselves."
Vote on this Story by clicking on the Icon