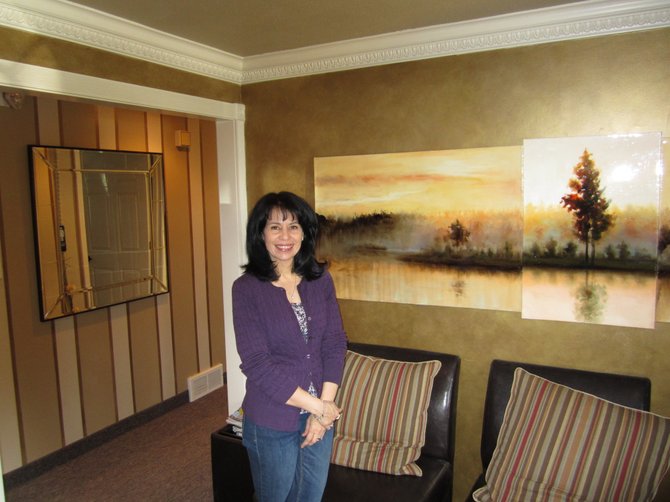 Liverpool — Shear Perfection, the salon and spa Bonnie Marini built at the corner of Route 57 and John Glenn Boulevard in Liverpool, is helping several area stylists reach their own goals at the same time it fulfills a dream for the Fulton resident.
Marini's dream of starting a private business to help people read, set in the same space for a few years, didn't bear fruit, but the North Syracuse school psychologist didn't give up; she just switched to a new dream.
"We decided we'd open up to women who wanted to work and build up a business," Marini said. "For the first few months we don't charge them anything at all for their space while they build up their clientele. Then we make arrangements so they start paying a booth rental fee."
"I love it," said hairstylist Crystal Colville. "We have a great staff. Everybody's really friendly and works well together."
Keanah Patterson is a nurse turned hair stylist. She was upbeat about her new place of employment.
"I just wanted something more fun," Patterson said of her change in career. "I can be more personable with my clients."
Marini believes that when the stylist or spa worker has more invested in the work they're doing, they do a better job.
"It helps when you have people that love what they're doing," she said. "They really do love what they're doing. They're a group of people who want to own their own business and they're doing whatever it takes to build up their business. They're really proud. When it's your business the buck stops here."
Shear Perfection just celebrated its grand opening and today has one massage therapist, an aesthetician, two nail artists, an eyelash extension teacher and four hairstylists.
But this dream-turned-reality didn't come true overnight.
Marini started in the hairstyling business in 1977. Back then a career-minded woman had three choices: becoming a nurse, teacher or hairstylist, she said. Marini stayed in hairstyling for a decade, but gave it up and went back to school. After graduating from SUNY Oswego she started her career in psychology.
(Continued on Next Page)
Prev Next
Vote on this Story by clicking on the Icon