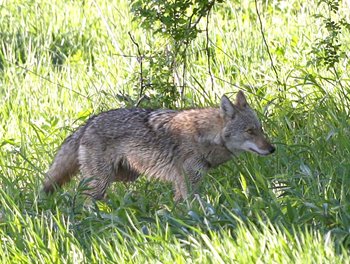 continued — "I don't want to be at the next meeting saying a child has been attacked," Turton said. "There's no telling what they're going to do."
The DEC referred Turton and her neighbors to wildlife control expert Al LaFrance, who also spoke before the town board Monday night.
"Coyotes are here to stay," LaFrance said. "They're on the increase here and all across North America. They're the top predator right now, and they don't share the food chain. They're not scared by you banging pots and pans anymore."
LaFrance had spoken before the board last year when residents of the same area approached the town about the possibility of exterminating a fox that had been spotted near Scottsdale Circle. At that time, the law was not relaxed.
"Last year, I was stunned, because I've done this in many, many towns," LaFrance said. "This is the second time that I've been here offering a solution. If you refuse to accept the solution, then I'm wasting my time. The board's wasting their time. Everybody's wasting their time."
LaFrance said he offered a safe, viable solution to a complicated problem.
"We're not advocating to open up a hunting season in the town of Salina," he said. "We're asking that you give a professional permission to handle nuisance wildlife on an as-needed basis. There are 33 children who were grabbed by the head, by the arm, by the buttock, and dragged off their playground, off their swingsets, off their sandboxes and into the edge of the woods. Is it going to happen here? I can guarantee it. It's just a question of time."
The public hearing initially called for the use of "a crossbow or other bow and arrow apparatus," but LaFrance said a shotgun would actually be safer.
"Crossbows are inherently more dangerous than a shotgun using birdshot," he said. "I spoke with Capt. Ericson of the Syracuse DEC today, and he does not want to see a crossbow used, nor a bow and arrow, to dispatch coyotes."
Vote on this Story by clicking on the Icon