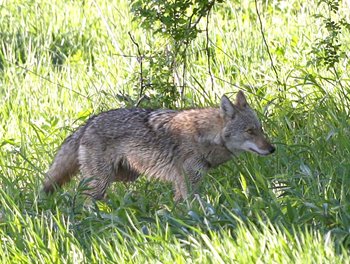 Salina — Laurie Turton lost a cat to a coyote attack in February.
Now, she and her neighbors are asking the town of Salina for help so that her children and others in the Scottsdale Farms tract will be safe from future attacks.
Neighbors in the subdivision have approached the town board to request that the town relax its regulations pertaining to the use of firearms so that they may hire a wildlife control agent to dispose of coyotes seen in their neighborhood. A public hearing was held on the matter at the board's regular meeting Monday, April 9.
Turton of Scottsdale Circle originally approached the town in February shortly after her cat was killed by one of the coyotes spotted in the neighborhood.
"My next-door neighbor came over at 10 on a Saturday morning. He had just run out of his house because he had seen a coyote in his backyard grab my cat," Turton said. "He tried to stop the attack, but the coyote viciously shook [the cat] and ran off with it. He saw the whole attack happen. He has seen the coyotes a few times since then."
Turton, a mother of young children, said she had contacted the New York State Department of Environmental Conservation for guidance. The agency advised her to seek out a professional to dispose of the coyote.
"They said it can attack children," she said. "It's not unheard of."
The residents of the Scottsdale Farms tract would be responsible for any costs incurred from the hiring of a trapper to dispose of the coyotes. The town's only involvement is in relaxing the firearms regulations so that the trapper is not in violation of that part of the town code. That was the reason for the public hearing – the town needed to approve a temporary exception to the prohibition of the use of firearms in the area of the town in which the coyotes had been spotted.
(Continued on Next Page)
Prev Next
Vote on this Story by clicking on the Icon