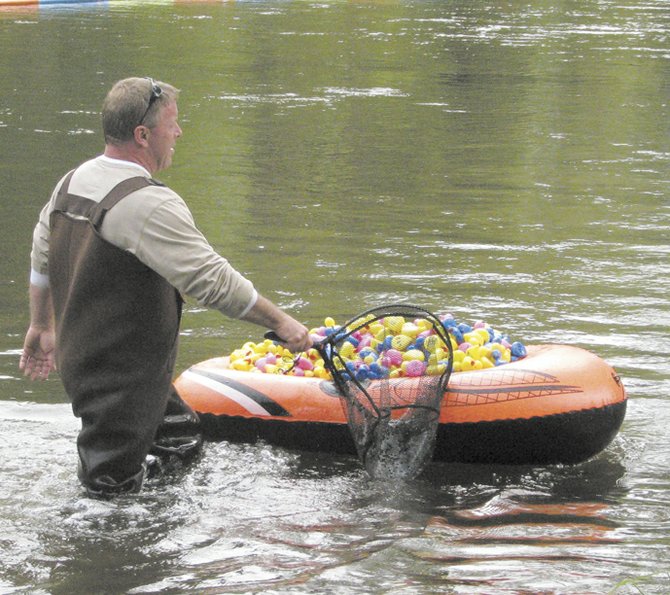 Bridgeport — It might have had to wait a week, but the Bridgeport Duck Race was no less a success for the delay.
Numerous residents from Bridgeport, Kirkville, Cicero and the surrounding areas turned out to watch the plastic ducks swim for the finish line along Chittenango Creek, all to raise money for the Bridgeport Food Pantry. The race, originally scheduled for Sept. 10, had to be postponed until this past Saturday when heavy rains made the creek too swollen for the tiny toys to navigate.
The food pantry, which is affiliated with the Food Bank of Central New York, serves between 150 and 165 families a month in the towns of Cicero, Manlius and Sullivan. That number spikes to near 300 around Thanksgiving and Christmas. In 2010, the pantry provided 67,000 meals, an increase of 14 percent over 2009. The facility's food budget is around $55,000 a year; the duck race is its major fundraiser, bringing in an average of $25,000.
Organizers for this year's event were not yet sure of the exact total raised, but Carol Benedict, marketing director for the event, said they were pleasantly surprised with the turnout.
"It was definitely more than we thought," Benedict said.
Benedict said the organizers sold a total of 5,045 ducks this year. Local businesses who sponsored the event gave away 39 prizes, including cash, gift certificates and other goodies. Among the winners was Cicero Town Council candidate Don Snyder, winner of $87 in the 50/50 raffle. Snyder gave the money back to the food pantry.
There were also some big winners at the event; Judy Schnor's duck crossed the finish line first, netting her the grand prize of $1,000. Greg Simms' duck took second place, winning him $500. Third prize of $250 went to Ann Hotchkiss, and another $250 fourth prize went to the food pantry itself.
Vote on this Story by clicking on the Icon