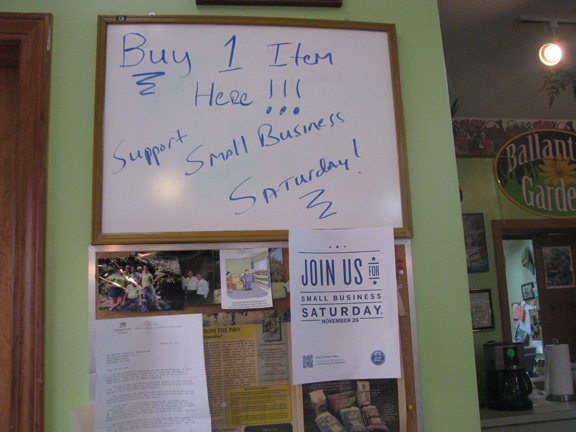 Liverpool — Black Friday may be all about the big deals at big box stores, but on Saturday, consumers are encouraged to think small – small business, that is.
Small Business Saturday was started last year by credit card giant American Express as an effort support small, independently owned local businesses that create jobs, boost the economy and invigorate neighborhoods across the country. This year's event was also supported by FedEx, Google, Facebook and Twitter, as well as numerous politicians and municipalities – plus the thousands of small businesses across the country that strive to meet the needs of their customers on a daily basis.
Tim and Lisa Ballentyne of Ballentyne Gardens in Liverpool decided to move their annual open house up a week so that it coincided with Small Business Saturday.
"We're a small business, and it seems right to jump on the bandwagon," Lisa Ballentyne said. "If we don't keep healthy small businesses, we won't have healthy communities."
That's the goal of Small Business Saturday, according to Patricia Norins, Small Business Saturday consultant for American Express – to emphasize the importance of brick-and-mortar businesses to the communities they serve.
"Consumers have a huge opportunity to find unique products and personalized customer service [in small businesses]," Norins said. 'It instills a sense of community, which is important on a local and national level -- more money stays in the community and more jobs are created."
Nationwide, word about Small Business Saturday was spread through Facebook and Twitter; the event's Facebook page had more than two million likes. In addition, American Express offered free ads on Facebook, as well as in-store signage and marketing packages.
Ballentyne Gardens, which has been in business on Hopkins Road for the last 14 years, used the event to try to draw in new customers as well as to continue to serve those who had long been loyal to the business – people Tim and Lisa addressed by name as they browsed the store.
(Continued on Next Page)
Prev Next
Vote on this Story by clicking on the Icon