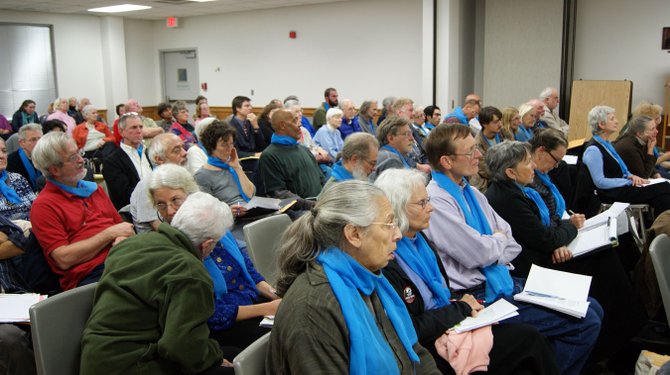 Opening statements in the case of the Hancock 38, which is down to 32 after plea agreements, guilty pleas and dismissals, are expected Wednesday night at DeWitt Town Court.
In April, the 38 protesters from Syracuse – but as far away as Honolulu, Hawaii – were charged with two counts of disorderly conduct after proceeding with a "die-in" at the main entrance to Hancock Air Base, in DeWitt. More than 300 protested the unmanned drones, which are being used in the war on terror overseas. Pilots of the drones train and work at the Hancock Air Base. The drones are often used to kill targeted members of terrorism groups, but the group protesting argues drones are used as "assassination" machines and innocent civilians often die in their attacks.
At the end of the protest, the 38 laid down in the driveway to participate in a "die-in," where the protesters laid down in "bloodied" clothing to symbolize those who die from drones overseas. Police arrested the protesters after they refused to comply with their order to disperse and for restricting vehicular or pedestrian traffic, police said.
"It was to show our discomfort with the way the war is being prosecuted," said Judy Bello, of Webster, northeast of Rochester. "We were showing our discomfort with the drones flown from our backyard and the way they're used in general."
The Air Base employs pilots who fly drones over Afghanistan and maintenance technicians are trained there, according to the Syracuse Peace Council.
"We are now in the midst of a war zone," Syracuse resident Ed Kinane said. "It's leading to a breakdown of international law. We have a responsibility to speak out and educate the public."
Kinane says the charges shouldn't stand.
(Continued on Next Page)
Prev Next
Vote on this Story by clicking on the Icon