Clay — Second District candidate
John Dougherty
Background info (age, family, political affiliation, work history, etc.)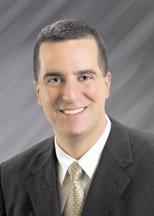 I'm 37 years old. I am married with three school-aged children. I am registered Republican. I moved to Clay in 1996 after graduating from SUNY Buffalo to pursue a career in engineering. Since then, I have earned a master's degree in engineering and a master's in business administration from Syracuse University. For the past several years, I have worked for SRC as the manager of business development.
Why are you running for office?
I was first elected to the county legislature in 2009 and I am seeking re-election this year to continue forcing Onondaga County to be a smaller, more efficient operation that can focus on only those things that are essential to proper government.
Why are you the best candidate?
I have experience in town and county government that is absolutely essential if we expect to fix some of the major issues facing the county and the state as we go forward. These issues include unfunded state mandates, metropolitan consolidation, and an increasingly complicated interdependence of local governments. I also have many years of formal education and real-world job experience in private sector business development. This knowledge will continue to be very valuable as we try to attract new businesses and tourism to the area.


What are the issues facing the town and how will you address them?
The single biggest issue facing the town of Clay is the financial burden placed on them by increasing costs. These increasing costs combined with a population that is already overtaxed will lead to some very difficult decisions in the next few years. This is the same issue that faces the city of Syracuse and most of the other towns in Onondaga County. Despite the fact that the property tax dollars used to fund county government have been dropping over the past 10 years, the total amount of taxes collected have been increasing. This difference is driven almost entirely by unfunded state mandates. While the county executive and state representatives work on solutions to the state mandate issue, I intend to use this crisis as an opportunity to push necessary cost saving measures. These measures include expanding local consolidation programs, increasing the use of shared services, and using public/private partnerships to let local businesses compete for some of the work traditionally done by town and county governments. If these efforts are successful, the property tax increases can be reduced or eliminated without a corresponding reduction in services.
(Continued on Next Page)
Prev Next
Vote on this Story by clicking on the Icon