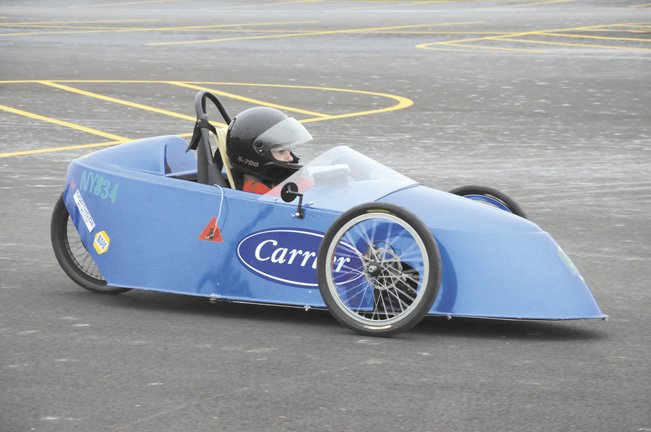 DeWitt — Carrier Corporation came to life Saturday, Oct. 29, as engineering teams from nearly half a dozen schools raced through the parking lot in hydrogen fuel cell vehicles as part of the annual New York State Electrathon competition.
Cicero-North Syracuse High School co-hosted the event with Carrier Corporation. C-NS has participated in several NY Electrathon races in the past, making a name for itself as a top competitor in hydrogen fuel cell vehicle marathons; the school's engineering team has had cars in competitions in Houston and California.
"We got involved with the alternative fuels energy program back in about 2008 or 2009," said Marty Miner, technology teacher at C-NS and advisor for the school's Performance Engineering Team. "We were approached by Carrier Corporation to design and build a hydrogen fuel cell vehicle. We took on the project and started building and competing, and we started participating in the NY Electrathon."
According to NYElectrathon.com, a site run by Cazenovia High School technology teacher Chris Hurd and his students, the goal of the Electrathon is to provide a learning experience that will build public awareness of the capabilities and potential of efficient electric vehicles. Developed around specific rules designed to keep cost down and competition high, these unique vehicles offer an opportunity and challenge to experiment, learn and compete. Electrathon vehicles are single-person, lightweight, aerodynamic, high- efficiency, electric vehicles powered by gel-cell battery packs weighing under 67 pounds. They have to have brakes, a five-point harness and can be built from scratch or from a kit.
Student engineering teams from across the state built cars that were then transported to Carrier for the race event on Saturday. In addition to C-NS, engineering teams from Baldwinsville, Oneida, Cazenovia and West Genesee participated in the event.
"Every year, NY Electrathon offers an opportunity for high school teachers to pull together their students for a competition," Miner said. "They do races once in the fall and once in the spring. This year is the first time C-NS is co-hosting one with Carrier."
(Continued on Next Page)
Prev Next
Vote on this Story by clicking on the Icon