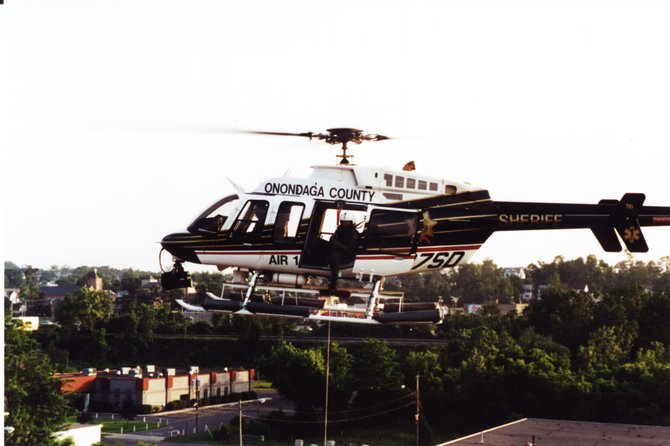 SYRACUSE — A public battle over Air-1's helicopter service has drawn many parallels between the Onondaga County Sheriff's Office air service and other local entities, sometimes unfairly, said Sheriff Kevin Walsh.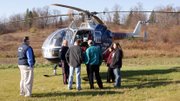 The helicopter was recently defunded by the county legislature, but was left in the budget so that it can still fly. Now, Walsh is scrambling to raise $595,000 in the coming year to pay for the year's expenses associated with the helicopter, which is used for police, fire, rescue and medical missions.
"We'll continue to fly and we'll have to reimburse our budget through the [Air-1] foundation," Walsh said. The Sheriff's Office has set up a not-for-profit, 501(c)3 account to solicit donations for the funding of the helicopter.
"One of the biggest complaints the Onondaga County legislature had over the years is that we fly outside of the county to save lives," Walsh said. "I don't so much care about the fact that we're saving lives, I care that it's costing Onondaga County taxpayers money for the time we're outside of the county."
Walsh has approached the surrounding counties seeking monetary support for the program. Cayuga County has been sending $5,000 every year for eight years, Walsh said. He's waiting to hear back about final funding from other counties, though Oswego County has vowed to provide $10,000 in support, he added.
The Sheriff has also reached out to two corporations offering naming rights, for a price.
He is looking at two businesses that could bring in $100,000 in added revenue for Air-1 through advertising and naming rights.
The amount raised to date to fund the helicopter through the Air-1 Foundation was not readily available as of press time. Guidestar, a reporting agency for not-for-profits, did not have any financial information on record for the Air-1 Foundation.
But the county's historic funding of the helicopter has some questioning why the public service is necessary if two other helicopters cover Onondaga County — the New York State Police split airtime with Air One, and the privately-owned Mercy Flight Central provides medical transports, as well.
(Continued on Next Page)
Prev Next
Vote on this Story by clicking on the Icon