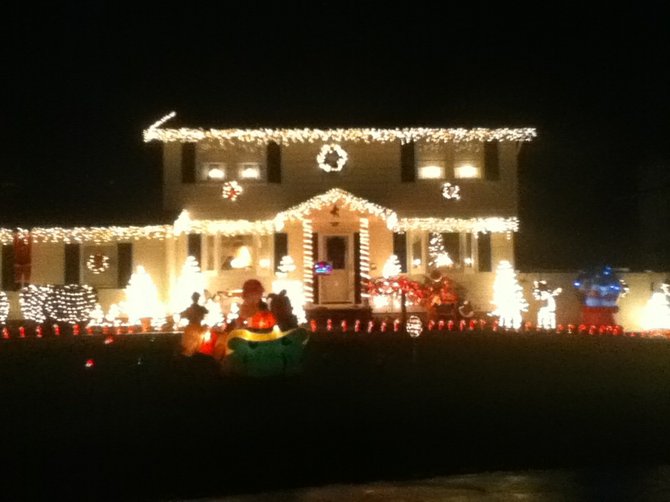 Liverpool — Drive down Cedarpost Road next to the Wegmans on West Taft Road at night this month, and you will notice a house at the corner of Harvest Lane. In fact, it would be pretty difficult not to notice it. The house and the lawn are blanketed in Christmas decorations and lights — lots and lots and lots of lights.
"[We've got] somewhere between 10,000 and 20,000," estimates St. Joseph the Worker parishioner John Bianco, the house's owner and architect of "lights on the corner."
He's not exaggerating. The lawn sports a sleigh, trees, reindeer and even a runway. An inflatable Santa snoozes in a bed with peppermints topping the bedposts. A digital sign counts down the number of days until Christmas Eve. Snowmen in a giant snow-globe stand in front of the fence. A Santa Claus hangs by his fingertips from an overhang over the first floor. And above all, a seemingly endless array of lights illuminates the entire corner.
Bianco, a long-time parishioner at St. Joseph's who once attended the parish school, caught the holiday decorating bug as a teenager, helping his parents decorate their home. "I started in 1998 with a small collection and have just built it up over the years."
That small exhibit has grown into a collection that includes Halloween and Thanksgiving decorations, but the Christmas display is the crown jewel. Even as he's putting up the Halloween decorations, he's beginning to take the Christmas things out of storage and test them. When Halloween ends, the Thanksgiving turkey takes its place on the lawn, but not for long. By 4 p.m. Thanksgiving Day, it has been retired and the switch has been flipped on the Christmas lights.
"I always try to beat the city by a day," Bianco boasted, referring to the tree in Clinton Square, which the city lights each year the day after Thanksgiving.
(Continued on Next Page)
Prev Next
Vote on this Story by clicking on the Icon