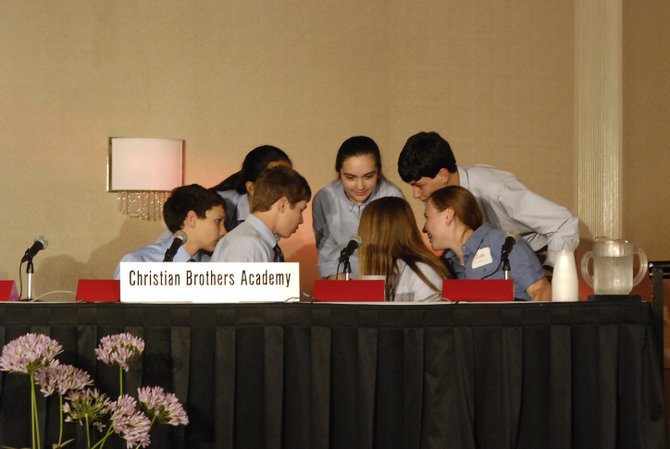 SYRACUSE — More than 7,000 middle school students in Onondaga and Madison Counties can tell you what the 28-letter chemical makeup is for the street drug ecstasy, how to recognize it in social situations and how to resist the pressure to take it.
How to vote:
Head to refresheverything.com/drugquizshow
From there, you can choose to vote online by creating an account or connecting to your Facebook profile.
You can also text 110516 to 73774.
Participating Schools
Madison County
Chittenango Middle
Otto Shortell Middle
DeRuyter Central
Onondaga County
Eagle Hill Middle
Wellwood Middle
LaFayette Jr. High
Tully Cental
Gillette Road Middle
Roxboro Road Middle
North Syracuse Jr. High
Christian Brothers Academy
Lyncourt Union Free School
Bishop Ludden
Bishop Grimes
...and others
But this and other drug and social knowledge is in jeopardy. The Drug Quiz Show, formerly sponsored by Eckerd and Rite-Aid, is seeking a new sponsor to save the program. The show, brought to the students in middle-schools across the state, is a buzzer-style competition among students. The questions range from the technical aspects of hallucinogens, depressants and alcohol to social topics including decision-making, conflict-resolution and self-esteem. Competitions are held in each school, county and then the state championship.
"It's really been a community tradition for 25 years," said Susan Meidenbauer, director of the Drug Quiz Show. "There are people who count on it, families count on it to open up discussions. These are timely, relevant topics like bullying, gambling and making good decisions and learning life skills. It helps in every aspect of the student's life, plus it's really fun."
The program lost corporate sponsorship in 2010. Drug store Rite-Aid took over sponsorship when they purchased Eckerd earlier this decade. But due to the struggling economy, Meidenbauer says the store notified all organizations they would be relieving themselves of all philanthropic ventures. More than 90 percent of the funding for the Drug Quiz Show program came from Rite Aid, but due to "careful spending," the show went on in spring 2011. But next year's program is in jeopardy.
(Continued on Next Page)
Prev Next
Vote on this Story by clicking on the Icon