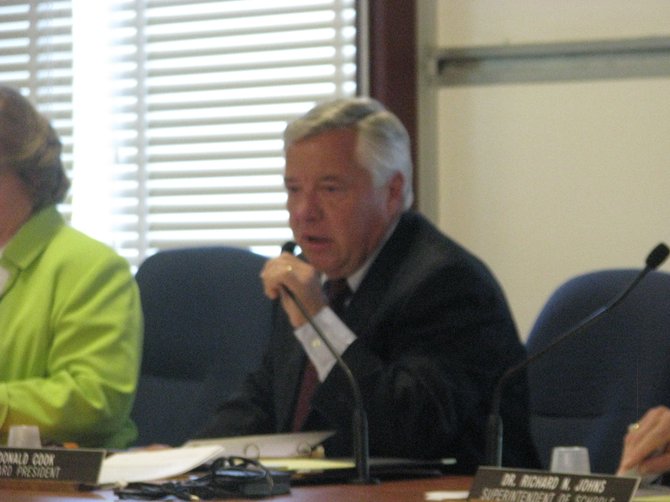 Liverpool — Though about 40 people attended a public hearing on a grade reconfiguration proposal in the Liverpool Central School District Tuesday Aug. 23, few spoke out on the changes proposed to the board of education in a report made by a subcommittee last month.
In his opening remarks, Board President Don Cook praised the committee in a written statement for the work they'd done in coming to their recommendations.
"Many voices were heard, including many in the community," Cook said. "I have before and will again thank them for their considerable effort, their tremendous leadership and their ability to come up with what they feel is the best educational reasons for the configuration they proposed."
The committee has recommended that the district switch from its current configuration (K-6/7-8/9/10-12) to an elementary configuration of K-5, middle of 6-8 and high school of 9-12. This would involve shutting down the ninth grade annex and moving those students into the main building, as well as shifting the sixth grades from the elementary schools into the middle schools.
According to the committee's report, this configuration allows for "more opportunities for vertical alignment in curriculum in the middle and high school," helps bring the district into line with changing state education requirements and provides for more consistent delivery of instruction at the middle and high school levels. The report suggests the new configuration could also present opportunities for accelerated classes for fifth through eighth grade students and would allow for more flexible scheduling in the middle and high school levels. Most notably, the reconfiguration would reduce the number of transitions, which, according to the report, researchers say result in "achievement losses" and may cause at-risk students to fall through the cracks.
Several parents in the district, however, did not agree with the committee's assessment. Five spoke in opposition to the proposal at Tuesday's public hearing.
(Continued on Next Page)
Prev Next
Vote on this Story by clicking on the Icon