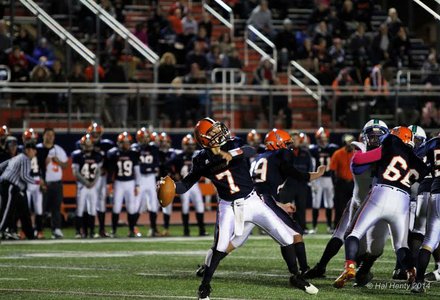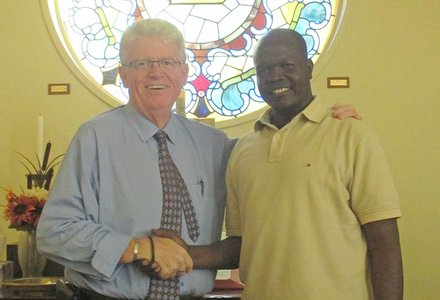 Sun

Mon

Tue

Wed

Thu

Latest stories

Warriors draw Class AA semifinal against B'ville
Maybe it was supposed to turn out this way for he Liverpool football team - that, in order to end a 16-year wait of returning to the Section III Class AA championship game, it would have to conquer both of its neighborhood rivals in consecutive weeks, and in consecutive playoff rounds.
We haven't even met him yet, but we already know that the new owner of Liverpool's historic Zogg Building is one of Thailand's most outspoken proponents of democracy in his troubled country of 66 million people This past August, Liverpool Community Church, which has owned the former A.V. Zogg Building for 11 years, sold it for $1.1 million to Dr. Pramote Nakornthab, a retired professor of political science from Cornell University.

In its former life as the Calvary United Methodist Church, the squat brick building at 201 E. Molloy Road in Mattydale only saw visitors on Sundays. Now, its new incarnation — the Path of Life Mission Center — sees people coming and going every day of the week.
To the editor: The members of American Legion Auxiliary of Liverpool Unit 188 would like to express our sincere appreciation for the men and women who served in the United States Armed Forces.
To the editor: Assemblyman Al Stirpe has done a lot for the people of our community. Taxes are always a big issue. According the CPA who prepares my family's taxes, New York State is a great place to live for retirees. The truth is that many middle-income retirees pay little or no state income tax because of our tax laws. Further, many of us 65 and over benefit from the Enhanced STAR Program, a program that reduces our school property tax obligation that Al helped preserve. And lowering property taxes help us all.
If the town of Clay's 2015 budget remains unchanged, residents will see a 3.38 percent increase in their property taxes, which amounts to $10.21 per household on a $100,000 house outside the village of North Syracuse. Residents inside the village will see a decrease of $5.58 a year.
This year marks my fifth working on the budget as an Onondaga County legislator. In that time, the economy made a dramatic downward turn, and has shown signs recently of a slight recovery. Fortunately, our county has been able to weather the economic changes fairly well. As I spent the past few weeks combing through the 2015 budget from the county executive, I am pleased to share the budget as presented proposed to keep the property tax levy flat, and even reduced spending by $6 million. In dollars and cents, that is a proposed tax rate of $5.17 per $1,000, a new historic low for our county.
Inmates at the Onondaga County Justice Center can now be assured that any pets they leave behind while incarcerated will be taken care of.
Republican Congressional candidate John Katko has received the backing of Onondaga County Executive Joanie Mahoney.

Liverpool beats West Genny; Northstars edged by B'ville
Having just finished off its first undefeated regular season in 16 years, the Liverpool football team finds that it still has to hold on to neighborhood bragging rights against Cicero-North Syracuse if it wants to go anywhere in the Section III Class AA playoffs.

You may have heard of Relay for Life — the day-long walk to raise awareness and money for the American Cancer Society — but have you heard of Bark for Life? This Halloween-themed, four-legged counterpart to the popular annual ACS fundraiser takes place Oct. 25 at Johnson Park in Liverpool. It's a chance for dog lovers to show off their canines' costumes and raise money for cancer research.

Cooper Smith came into the world screaming. "He screamed like no baby I'd ever heard before," said mom Nikki Smith of Baldwinsville. It might not sound like much — many babies are born testing out their little lungs — but for Cooper, it was a big deal. After all, Nikki and husband Eric weren't sure if Cooper would even survive long enough to be born. "The doctor turned to me — he had this really dry sense of humor," Eric said, "and said, 'I think he's going to make it.'"
As summer's heat lingered through August, Nichols Supermarket installed five dozen six-foot-high swinging-door beverage coolers. The new glass doors not only look spiffy, they allow you to get a good look at the groceries before you open the door and grab 'em. As a bonus for store owner Mike Hennigan, the coolers actually save energy! And here's some more news about Nichols. Around the same time the swinging doors swung open, the supermarket started printing its weekly flyer at Eagle Newspapers, the same company that publishes the Star-Review.
The Baldwinsville Central School District has been named one of the most efficient in the state for administrative efficiency, according to a Western New York publication. Business First, a Buffalo-based magazine, annually examines data from the New York State Department of Education for 432 Upstate school districts, looking at district spending, staffing levels and debt service to rank districts according to administrative efficiency. Baldwinsville ranked No. 11 statewide, making it the top school in Onondaga County. It beat out 97.7 percent of schools in the state, earning a five-star rating for being in the top 10 percent. Liverpool (No. 25) and North Syracuse (No. 22) also ranked in the top 44 districts statewide, earning five-star ratings, as well.